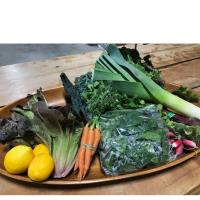 FEED BIN - 'ohana / Large
What's Inside the Bin this week :: for delivery the week of August 4 - 8 , 2020
The ordering window for TUESDAY is now closed !! If you are trying to order for Friday or Saturday , then simply change the day using the drop down menu in the upper left , just below the bright green bar.... Thank you for your support ! Ordering for next Tuesday will open this Friday at 6pm .... Please check in again soon !! together we are Building the Foundation , for the food system of your children !
stone fruit mix :: plums : 'burgundy', 'catalina', 'shiro', OR 'wickson, Animalitos Farm / pluots : 'candy stripe', Gabriel Farm OR 'dapple dandy', Animalitos Farm OR Live Oak Farm .. melons :: 'ananas' OR 'charentais' OR 'galia' , Paul's Produce .. apples :: red gravenstein or 'maiden's blush', Filigreen Farm .. italian flat leaf parsley, New Family Farm OR Paul's Produce .. mix asian greens, Kibo Farm OR spring lettuce salad mix, Russian River Organics .. red russian kale, Marin Roots Farm .. red butter lettuce, Paul's Produce .. orange 'nantes' carrots, Paul's Produce .. sweet bicolor corn, Bernier Farms .. cucumbers :: japanese 'tasty jade', Blue Leg Farms OR lemon, Russian River Organics / Suncatcher Farm OR 'marketmore' green slicer, ALLSTAR Organics .. italian hardneck garlic bulbs, ALLSTAR Organics
You may be interested in some of these other products.
You must be logged in to confirm your subscription
Login